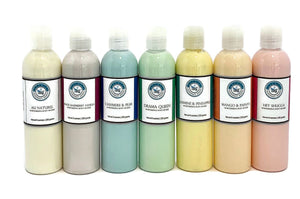 Please Select option of Colored Lotions or Uncolored (white)
This listing is for 30 - 8 oz bottles of Moisturizing Body Mousse (Lotion)
Bottles are NOT labled.
Choosee 6 scents and get 5 bottles of each
or
Choose 5 scents and get 6 bottles of each
****Due to the nature of handmade products, colors/designs may vary slightly from batch to batch, but the quality remains the same.****

Our Moisturizing Body Mousse is filled with skin loving oils. It's non-greasy texture melts into your skin quickly, leaving a natural glow.

Ingredients: Love, Distilled Water, Avocado Oil, Olive Oil, Coconut Oil, Emulsifying Wax, Grapeseed Oil, Fragrance (or unscented), skin safe colorants (as well as uncolored), Optiphen (preservative).

Moisturizing Body Mousse comes in 8 oz bottle.

Our Moisturizing Body Mousse comes in the following fragrances and are made when you order them.

 Scent Descriptions:
Unscented
Aloha ~ Island pineapple brightened with freshly picked cilantro.

April Showers~ a blend of ozone & sweet flower house blooms.

Black Raspberry Vanilla ~ ripe black raspberries, mixed with dark plum and warm vanilla.

Black Forest- outdoorsy fir, cedarwood and moss followed by notes of spicy cloves, black currant and sweet plums finished with a hint of herbaceous bergamot and green musk.
Blackberry Magnolia ~ Ripe blackberries mingle with notes of apple, magnolia, melon and sugar crystals.

Blushed Orchid ~ Pink cettleya orchid and pear nectar blend with sensual sandalwood and soft amber.

Cashmere & Pear ~ Anjou pear, sweet pea, Tahitian tiare flower, papaya, sugar cane and white musk.

Creamy Lemon Dream ~ tart lemon, pettigrain, sugar cane, grapefruit, lychee flower and soft neroli

Cucumber Mint ~ cool cucumber with a hint of mint.

Denim ~ A sparkling, lively scent with juicy Granny Smith apple, Sicilian citron, jasmine, white rose, Asian bamboo, cedar wood and amber.

Dark Knight~ notes of spicy berry, citrus, lavender, and amber.

Drama Queen ~ This magnificent island aroma bursts with scents of fresh mango and apple slices. Sweet undertones of soft floral complete this tropical paradise.
Egyptian Musk ~

Harmony- a harmonious blend of Lavender and Vanilla.

Hey Shugga~ cotton candy, lemon drops, caramel and raspberry jam on a dry down of musk mingled with sweet black raspberries with rich, velvety cream.

Love Spell ~ A lavishly lush blend of cherry blossom, muguet, red apple, and Georgia peach with hints of tamarind and blonde wood.

Oatmeal, Milk & Honey ~ oatmeal, milk, honey and almond.

Orange Cranberry~ Freshly squeezed oranges kissed with tart cranberry.

Pink Grapefruit~ fresh pink grapefruit with sweet valencia orange, mouth-watering clementine, and soft florals.

Rose Geranium ~ Rose Geranium essential oil.

Royalty~ Verbena, Tangerine, Cypress, and Yuzu Zest set the stage for a sexy middle of Coriander, Clary Sage, Geranium Bourbon, Blue Water Lily, Nutmeg, Saffron, with a memorable dry down of Ceylon Cinnamon Bark, Amber Tobacco, Vetiver, Sandalwood, and Musk.

Sexy Little Dress (Mesmerized)~ Blood orange, sandalwood, vanilla bean, white carnation, patchouli, vetiver & amber.

Teakwood & Coconut~ Vegan Handmade Bath Soap Bar ~ Tropical coconut and a wild riot of island flowers (gardenia, lily, jasmine, geranium and violet) dance in the delicate woody softness of aged teakwood, rich tonka beans, dark heady amber and vanilla musk