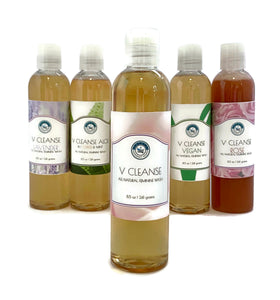 ****New look, same great product!****

V Cleanse Feminine Body Wash is made from the same recipe as our V Cleanse Feminine Soap Bar, just in liquid form. **Color may vary slightly each batch.

Now comes in (2) sizes:

Full size – 8.5 oz
Gallon size – 128 oz
All of our products are made by hand in small batches, using high quality ingredients. Treat yourself to a "Serenity Gourmet Handcrafted Soaps" experience today!

-Soap ingredients : Love, Glycerin (Vegetable), Potassium Olivate (Olive), Potassium Cocoate (Coconut), Apple Cider Vinegar, Potassium Avocadate (Avocado), Potassium Canolate (Canola), Aloe Barbadensis (Aloe) Leaf Juice, Potassium Castorate (Castor), Greek Yogurt, Potassium Shea Butterate (Shea Butter), Kaolin (Clay), Avena Sativa (Oat Kernel) Flour.

Each bottle weighs approximately 8.5 fl oz

We hope that you enjoy your "Serenity Gourmet Handcrafted Soaps" products, as we pride ourselves in offering great products. We use skin safe colorants ( mica, titanium dioxide ) and Fragrance Oils/Essential Oils from reputable companies. Please feel free to leave a review of your experience with us.

Angela~ Owner, Soap maker